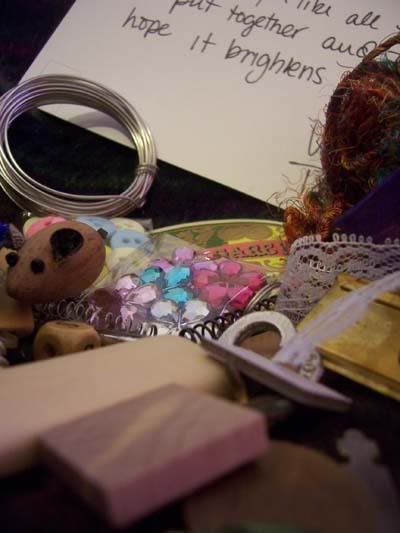 Swap-bot user:
ColorInFusion
. One afternoon about a week ago. Saw a tag post from me. I was asking for the usual few things, papery bits, soap and things. But I added an extra one, Something to brighten up my day. Recently ive been so totally fed up, feeling a bit fat and generally down in the dumps. I entirely blame the change in weather and the thought I was going to have a lame birthday. (this however has been rescued by a good friend of mine, he came to vist and is sat next to me while I write this, bless him).
ColorInFusion. Also helped this morning. I cannot not give credit, because Ive been a grumpy fool lately. You sent me the most brilliant tag packet ever. It hit the floor at the bottom of the hall with a veritable thump. and was just THE most amazing package, far more than any tag could possibly be. Glitter Gal's are always making me smile. I love you guys to bits. Really rescued my saturday and prooved to me I do have a great reason to be cheerful. I feel all infused now (kinda like a posh tea bag). Im gonna go make something, mostly a mess but I feel like I want to create something.
Here
's why. look
beady things
,
Little bits
of ossum and some
fish
.
The question now is...where do I begin?