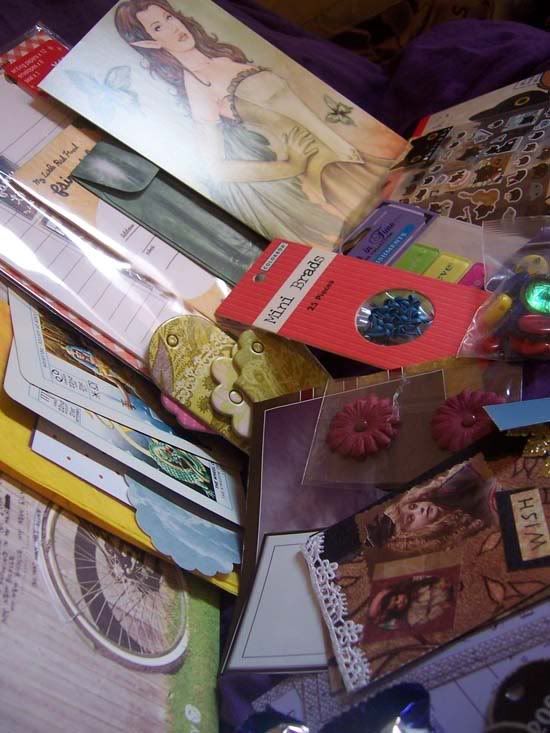 This was not what I was expecting in the post this morning. I mean I heard the thump of post which meant yay! things for me, from swap-bot. Im sorry Im such a child and even though its Valentines day and my Mr. just wanted to lay in and steal my blankets, I was down stairs like a shot. (Im sure theres something in that psychologists would blame on my mother).
There was this single white bubble wrapped envie there. OMG! it was one heavy packet. I was bouncing up the steps to my room.
Moving on from the half hour description where I explain how I opened it and almost pee'd myself with excitement. This was a packet from the
wishlist group
. From a lady on swap-bot named
bluelily
. And I kid you not. Everything pictured on the right was inside the packet. What a fantastic first packet from the wishlist group. If this is what folks are sending to each other as part of this group, then this is a place I am very happy to be. Because this was a well thought out packet of lovelyness. My first one too ever from a wishlist. it sets the bar high for my wish granting to come. I am stunned at all of what I have gotten. I feel spoiled. totally. There were ATC's, a new calender (my Mr. is using now for marking in holidays etc), embellishments, a ossum faerie card, some buttons and beads and an amazing letter set.
There was also a memo pad and some stickers with this strange little black cat on them. Ive never seen him before on any of the Sanrio things, he's adorable. I think hes now my favorit character there, even more so than Choco cat. If only I knew his name... (
here
's a picture of him).
This package totally blew me away (is amazing look
here
). Ive really got to pay this back into the group and grant some wishes. *skips away to rummage through her -to swap- pile*