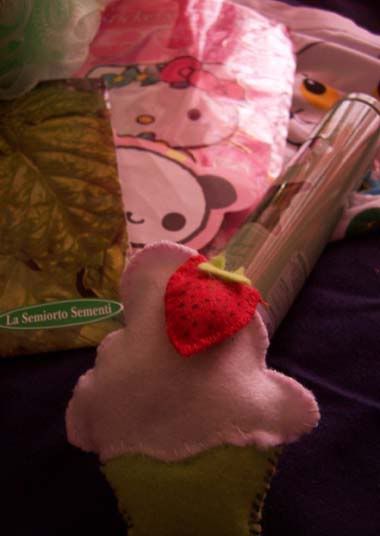 the post came this morning and I was sad, because all that came with it was bills and boring old junk mail, ten minuets after that post arrived however, the post man ran back to my house and delivered to me the largest evelope in the world. (well possibly not, but it was pretty darn big).
Inside I found
these
. Several individually wrapped green presents. Squeee! This happens to be my Favorit colour swap, I am so happy to have recieved it (my favorit colour was green for this swap).
I was very dubious though when I signed up knowing that lately there have been alot of flakers and this was my first proper main swap in ages and my partner was new to the site. (not that Im a newbie hater, quite the opposite, but some of the new guys Ive helped out lately have burned me for the kindness, bah! bad times).
I am happy though to say that this was not the case with this swap clearly. Swap-bot user:
muffinbianco
you did really well and I wish you all the best for the site, because if all your swaps are like this one, you'll be a top swapper sure as anyone else. Just look at all these lovely bits and bobs, a
faerie
, some
pants
(yep knickers, I like them too and they fit!) and this very strange
frog
....hmmm. The best parts for me though were definatly the hand make cupcake stuffie and the Faerie dolly. Great stuff.