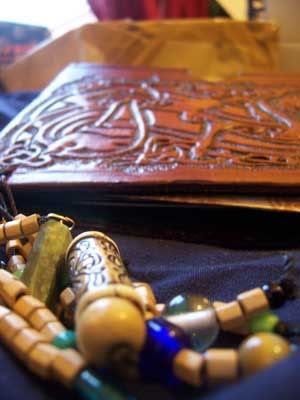 Whats that. I can hear you ask it right away. I mean other than it looking pretty much like a heap of beads. Its not. Its actually one of the best swaps I have ever recieved. Its a Medieval Rennaissance booklet. Given to me by my partner Swap-bot user:
Sunshinesuperman
. Not only was it this leather covered book but it was also several other pouches of surprizes.
Of course when it arrived at 7am I wasn't so excitable or energetic. I think I even answered the front door dressed like a blanket yeti (the post man was scared). But gosh. I look at this now and I am so very impressed. Mona you should never feel like your artwork isnt that good, this blew me away. Totally rocking my socks off. Each page had alot of thought put into it and I loved the quote at the end.
I also loved the
insence too
(the Vanilla was gorgeous) but also the little bag of semi precious
stones
. Im loving it all. but gosh not so early next time Mr. Postman