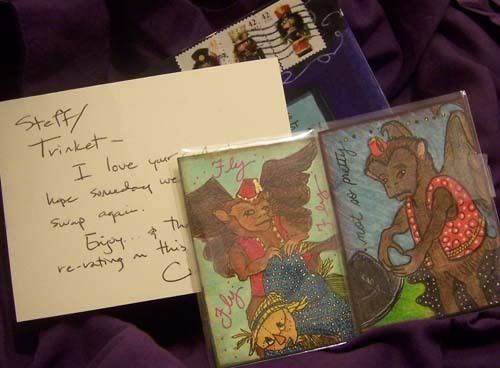 I dont nearly post enough ATC's here on my blog. Well that shall change, Now I have more free time to sign up to more ATC swaps and have to post all the lovely cards I get in the post.
Heres one I got today. Yes yes. I know its late, busy day. BUT! still here they are. These are two lovely flying monkey themed cards I got from swap-bot user:
Coffeelatte
Its sad to say these had to be a resend after the post just didnt seem to want to send the original first letter over here (curse those postal demons who eat only the best ATC's while they are in transit). I have respect for the girl for sending me another pair of lovely cards. I really like the flying monkey and the scarecrow card, it looks like hes getting the stuffing pulled out of him and if you ever saw the original Wizard of Oz film. Good. I hated that scare crow. I wanted to chase him with matches, and I wasnt allowed them as a kid. (my parents, sensible people).
Both though are great cards, ATC's for me are about the effort the crafter puts in, the time spent making them, but also the feel, you can tell a cards been made well if it just feels right, the paper used on these two felt lovely. Not sure what kind it was though, it was soft. mmmm soft.
These wrap up the
Flying Monkeys swap
for me. Its take a few weeks, but Im happy with the four cards I got. I hope my partners liked theirs from me too.