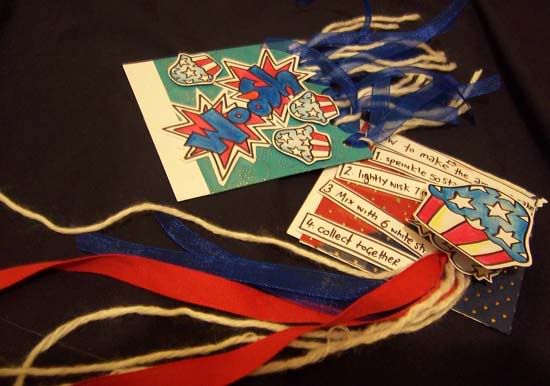 A little while ago Swap-bot user:
dBowie
created a Wishlist Chunky Book page swap, where you get to create two pages for your partner on one of their three given themes.
This swap is due out this week and I figured before it was time to post it out on its way, I would share a photo of what I have made for my partner. Her wishes included vintage (which isnt something I can do very well), cupcakes and the 4th of july. Being a brit I guess it is hard for me to understnad about quite how important the 4th of july is in the USA, however I can understand the importance of cupcakes. So what a better way to create a page for my partner than with America themed cupcakes!
Better yet. the bottom cupcake page with the really REALLY long tail has a pop up part to it too. Because everyone likes fire works and cupcakes too. I have to give special thanks to those in Swap-bot chat the night I made these
pages
, for listening to my very silly questions about how many stars and stripes there are (I didnt have a clue!).