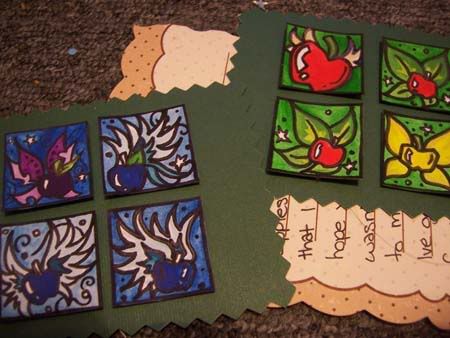 Its rare these days I find time to photograph my work, rarer still that I hop along and share it on the blog. Well after having been bitten recently by the flake fish, I have been prompted to start taking photos again and scanning things. Having lost one of the best chunky pages Ive ever made...Its sad.
But these are my contribution to the Keepers of Avalon group swap,
Apples of Avalon
. The idea behind the swap is that. Avalon is the old british word for Lava, which also means Apple, Hence Avalon is known as the island of apples. That being said I thought I would make Inchies for this project, I like Inchies and I like apples. I hope my two partners share the love however tee hee. The idea of what to send was vague, though it had to be something my partners would like, since both lovely ladys like my drawings, I had to draw something, and Faerie themed apples came into the mix somewhere. It was very fun to do, though next time perhaps I will produce ATC's. An Inch for me is just not enough!